Overview
Our primary goal is to help you commercialize your technology.  There are some typical steps in the commercialization workflow  and we are positioned to support you every step along the way, from invention disclosure to commercialization.
Our team is ready to assist you with questions related to marketability, funding sources, commercial partners, patenting and other intellectual property protection methods, startup considerations, university policies and procedures and much more.
Disclosing Your Invention
An invention is "the discovery or creation of a new material (either a new manufactured product or a new composition of matter), a new process, a new use for an existing material or any improvements of any of these." Computer software may also be classified as an "invention." All researchers and UConn employees are required to disclose all intellectual property that could constitute inventions or copyrighted works.
Timeline
Timely disclosure is especially important where any portion of the funding comes from the federal government, private foundation or commercial sponsor. If disclosures are not promptly made, UConn, inventors, and involved sponsors may lose very significant rights. Additionally, Federal law requires prompt disclosure for federally funded inventions.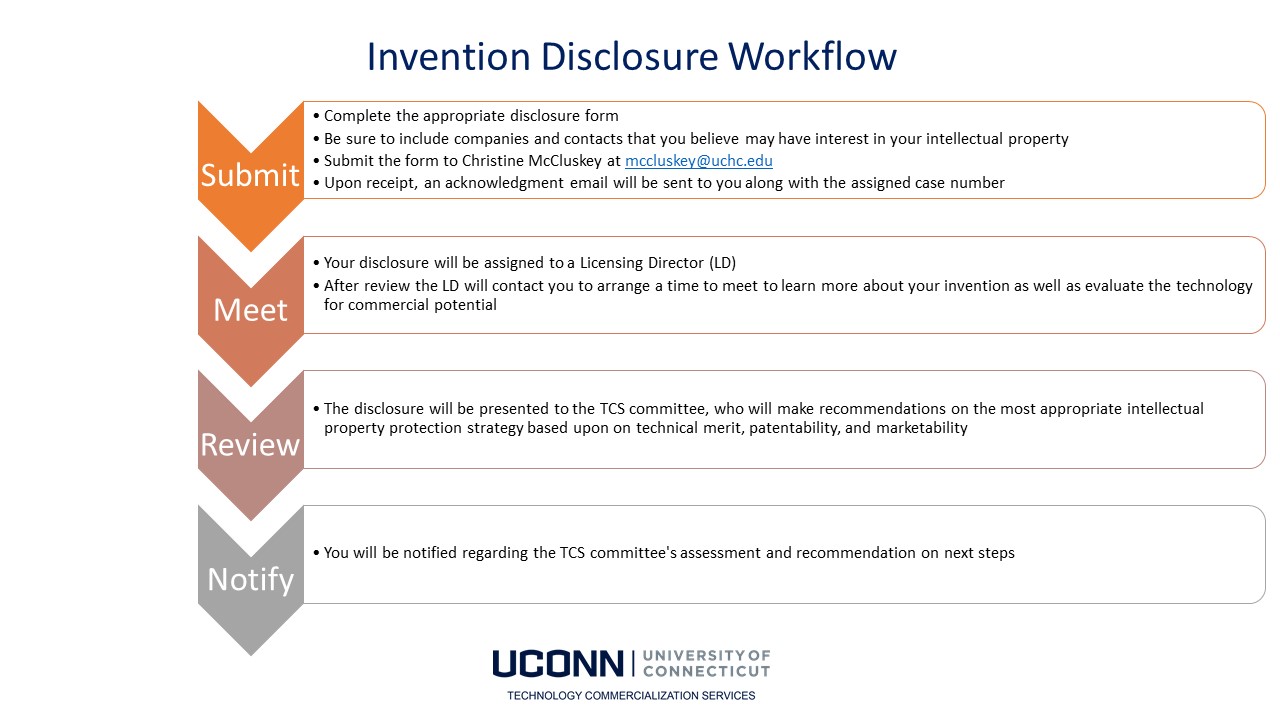 Tech Transfer Basics – Videos
To avoid risking your patent (or other intellectual property) rights and possibly hindering the opportunity to market your invention, contact TCS before publicly disclosing your technology or holding any discussions with people outside the UConn community. If a patent application has not yet been filed, TCS will give you a Non-Disclosure Agreement for the parties to sign before you describe your invention to them.
While inventions or software can be disclosed to us at any time, we have found that the best timing for this is 1-2 months before a related draft manuscript will be submitted for review and before the work has been publicly disclosed (e.g. before conference presentations, website publications, etc.).
If you feel that you have a commercially relevant idea or invention, do not hesitate to reach out to TCS for further discussion at any time.